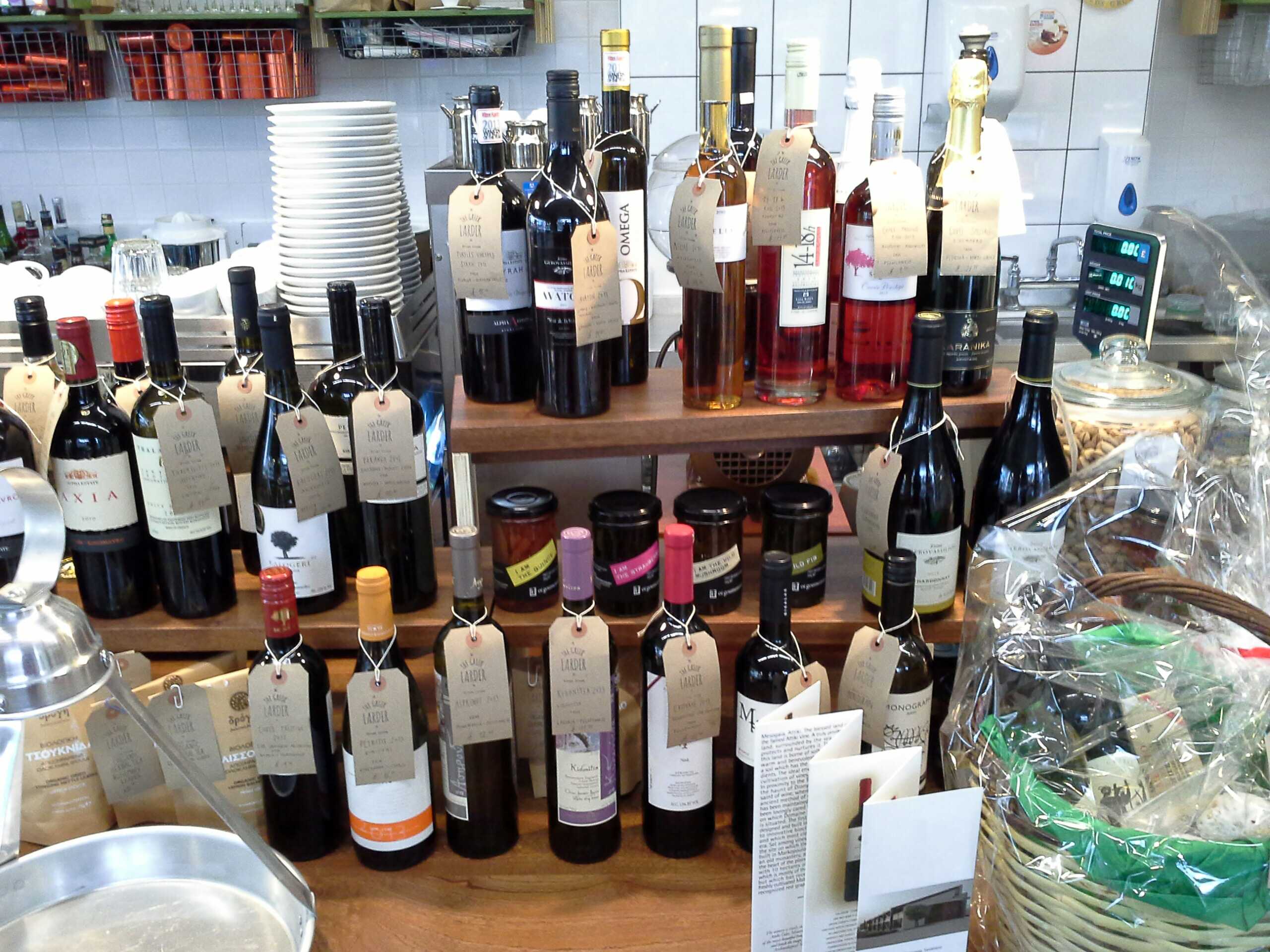 Fantastic Greek Wines - Available From Our Delicatessen
05.02.15
A great range from some of the best wine producers in Greece.
Available now by the bottle - come in to see us or call and collect on 020 37802999
Come and browse our wonderful selection of Greek wines available to buy and takeaway at our delicatessen. Sublime sparkling, red and white wines all carefully selected for quality, quaffability and expert viniculture.
SPARKLING (Methode Traditionelle) 
Cuvee Speciale by Domaine Karanikas-Brut White (Xinomavro) NV 22.75
Cuvee Speciale by Domaine Karanikas-Brut Rose (Xinomavro) NV 22.75

WHITE
Thiassos-2013 (Roditis & Moschofiliero) Peloponnese 7.60
Cuvee Prestige by Skouras-2013 (Moschofiliero & Roditis) Peloponnese 9.70
Petra Kyr Giannis 2013 (Roditis & Malagouzia) Amyndeon 10.30
Monograph-2012 by Gaia Wines (Moschofiliero) Peloponnese 10.75
Estate Manolesakis-2012 (Malagouzia & Assyrtico) Macedonia 10.70
Monembasia-2012 (Kydonitsa) Peloponnese 11.75
Notios-2013 by Gaia Wines (Moschofiliero & Roditis) Peloponnese 11.85
Savatiano -2013 by Papagiannakos (Savatiano)-Markopoulo 11.80
Asproudi-2012 by Monembasia (Asproudi) Peloponnese 12.60
Kalogeri-2011 by Papagiannakos (Malagouzia) Attiki 12.85
Axia-2014 by Ktima Alpha (Malagouzia) 12.90
Petritis-2012 by Kyperounda Winery (Xsinisteri) Troodos Mountains/Cyprus 15.00
Chardonnay-2013 by Domaine Gerovassiliou Epanomi 16.85
Viognier-2013 by Domaine Gerovassiliou Epanomi 16.85
Thalassitis-2013 by Gaia Wines (Assyrtico) Santorini 17.10

RED
Thiassos-2013 (Agiorgitiko) Peloponnese 7.60
Cuvee Prestige-2013 by Skouras (Agiorgitiko) 9.70
Paranga Kyr Giannis 2013 (Xinomavro & Syrah) Amyndeon 10.30
Exis by Estate Manolesakis (Moschomavro & Limnio) Macedonia 10.75
Notios-2013 by Gaia Wines (Agiorgitiko) Nemea 11.85
Erythros by Papagiannakos (Agiorgitiko & Cabernet Sauvignon) Peloponnese 12.50
Axia-2009 by Ktima Alpha (Xinomavro-Syrah) Amyndeon plateau 12.90
Avaton by Domaine Gerovassiliou (Mavroudi & Mavrotragano) Epanomi 14.85
Turtles Bay-2010 by Ktima Alpha (Syrah) Amyndeon plateau 15.00
Hedgehog-2010 by Ktima Alpha (Xinomavro) Amyndeon plateau 15.00
Mandilaria Sigalas – 2012 (Mavrotragano) 12.50 ROSE
Cuvee Prestige by Skouras-2013 (Moschofiliero & Roditis) Peloponnese 9.70
14/18h Rose by Gaia 11.90

RETSINA
Retsina Papagiannakos (50cl) Attiki 7.20
Ritinitis Nobilis by Gaia 11.10

DESSERT WINES
Samos 'Grand Cru' - 2012 Samos 8.15
Melias Papagiannakos (Malagouzia) Attiki 19.40
Ktima Alpha Omega (Gewurztraminer) 21.50
Vinsanto by Gaia Wines (Assyrtico) Santorini 33.70